GCH AKC/UKC CH OTCH MACH2 C-ATCH UCD URO1 NI PTM
TopFlite Ricochet
UDX2 OM4 PUTD BN GN RN TD MXB MJS MXF TQX T2B VCD2 CGCA CGCU, Can CD RN, CL4, TBAD TG1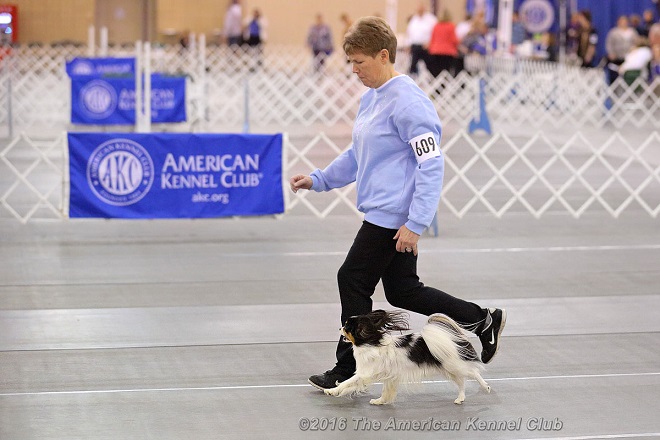 "Robert"
A phone call in 2010 to a breeder friend that was "just to get on a waiting list" culminated in pretty much the perfect Papillon puppy finding his way to Iowa! Robert had some big paws to fill, as he is the great, great nephew of my wonderful Zack. Robert started his conformation career with a bang, earning a BOB over a special for a major and then on to a Group Three, owner-handled, from the 6-9 puppy class. He was Best of Winners at the Papillon Club of America Regional Specialty in Des Moines in September of 2012, and then finished his Championship a month later by going BOB over four specials. Robert then quickly finished his Grand Championship in April of 2013 with BOB's over specials. Robert went from NA to MACH in limited showing at just three years of age, and he also earned his CD and CDX in 2013 with an amazing 13 High in Trials during his novice career. He also competed at the 2013 AKC Classic in Novice, where he was the Highest Scoring Papillon. Robert earned his TD on his first try, and earned his UKC Championship in 2014, owner-handled, including a Group Placement.
Robert was High in Trial at both the 2013 Papillon Club of America National Specialty and the 2013 Canadian Papillon Club National Specialty, where he was also Best Bred By Exhibitor. Robert also won the Inaugural Papillon All Around Challenge at the 2013 PCA National, which was a showcase for the versatile Papillon breed.
Robert continued his amazing ways by earning his UD at the end of March in 2015, and just 19 shows and three months later finished his Obedience Trial Championship (Robert is Gerianne's eighth OTCH). Robert won many large utility classes on his way to the OTCH, and he also quickly finished his UDX, OM1, and OM2. Robert was the Papillon Club of America's Top Obedience Achievement Papillon for 2015. 2016 was another huge year for Robert; he competed at the 2016 AKC National Obedience Championship in March where he not only won the Toy Group, he placed in the Top 50, along with his housemate, Border Collie Rick. It is a weekend I will never forget! Robert earned his UDX2, OM3, and OM4 in the spring of 2016, and then we switched to the preferred obedience classes, where he earned his PCDX and PUTD. Robert is now working hard towards the PUDX and Preferred Obedience Championship. Robert also finished his MACH2 and C-ATCH in 2016, and he has recently switched to the preferred classes in agility as well. Robert recently earned his 25th High in Trial. Robert started training in nosework in the winter of 2015-16, and he ADORES it. He has already earned some UKC nosework titles.
At home, Robert is the perfect pet, and Border Collie Riva adopted him as her very own puppy; Robert misses her terribly since her death, as the two of them were seldom more than a few feet apart. Robert is currently training a new Border Collie puppy, Rayna. George, Rick, Rayna and I continue to be captivated by this adorable, happy, fun little dog!