Merry Christmas!
Holiday Greetings from George & Gerianne Darnell
This is my first attempt at a website, so be kind! Whoopie, a Christmas letter from somebody you know telling you all about what they did this year, aren't you excited?? Read on to hear all about the fascinating lives of George and Gerianne Darnell and their pets in 2001.


Riva
| | | |
| --- | --- | --- |
| Rumor, Zack, Rudy & Riva | Riva | Zack |
January 2001
January found us coping with the coldest, snowiest winter since we moved here in 1978. Gerianne and Riva went herding in the snow whenever they could, and Gerianne found out that the PT Cruiser was NOT a good snow car!
February 2001
Late in February, we went on a cruise with Mom and Dad, brother Gary, sister-in-law Diane, and niece and nephew Hillary and Kevin, along with Diane's parents. We had a GREAT time!
| | | |
| --- | --- | --- |
| | George parties on the cruise ship | |
March 2001

March was a big month at the Darnells! We added a new Border Collie puppy, Raymond. (You know, Everybody Loves Raymond!) And, George turned 50!! Rich and Julie Salvesen came to surprise George for his birthday. George was only depressed for six months, but I think he's getting over it now.


Ray, 2 weeks old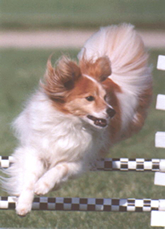 April/May 2001
George had more projects to work on. He remodeled the kitchen in the obedience building, which made it SO much nicer for camps. Gerianne had two camps in May. At the end of the month, she found her dream vehicle, a Chrysler Town and Country. George knew his life was over for sure now, as he was now the owner of a mini van...
June/July 2001
Our Border Collie, Riva, debuted in herding and agility this spring and summer, and finished the year with 12 titles. She is such a good girl.

Riva

August 2001

August marked our 24th Wedding Anniversary! To celebrate, George went on a boat cruise down the Tennessee River with a group of Wooden Boat fanciers. Gerianne and Rudy celebrated by earning his UKC Utility title with two first places. There's a reason we've stayed married this long! George also attended the Lindsey family reunion in California.

September 2001

September found George installing lights all around the agility building and putting the final touches on the kitchen in the obedience building. That was in between boat trips of course. Gerianne had her last camp of the year. We sadly said goodbye to George's fourteen-year-old cat, Tristan.

And, of course, on September 11 and beyond we were glued to the television. We saw the president's plane fly over our place that afternoon when he left Offutt. It was an eerie day, so beautiful and still here, and yet such horror happening in the eastern part of the United States. We held tightly to family and friends and continue to do so.


Ray sees sheep at age 4 months
October 2001
October found Gerianne and her best friend, Judy Varner, off to Purina Farms near St. Louis for the Border Collie national specialty. For eight days we had the time of our lives, doing things like attending a stock handlers seminar, herding in the rain, doing agility in the rain, exercising the dogs in the rain, did I mention the rain? Actually, it wasn't that bad, and we can't wait to go back next year. A most exciting event in October was the arrival of sheep at the Darnell farm. Gerianne and the Border Collies were thrilled. George was less thrilled.

Gerianne, Judy and friends
November 2001
While taking the dogs for a walk, Ray managed to totally take Gerianne out (DON'T ask), badly spraining her ankle. She was on crutches for about a week. Ray made up for it by going Best of Breed, for a four point major, at his very first dog show later that week. Gerianne and George enjoyed watching their nephew, Kevin, and his football team go all the way to the state semi-finals.
December 2001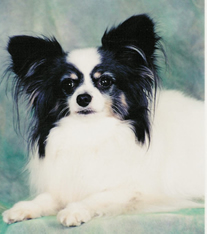 Gerianne's classes ended early in the month, and she has done lots of shopping and relaxing, no dog training! She did show the three paps and Riva at a CPE agility trial where everybody got a title, even fourteen-year-old Zack! His fourteenth year in a row to get a title! George is remodeling the living room and dining room this month, it will be done by Christmas. Gerianne has been shopping for furniture and rugs, love that zero percent financing! All of the dogs are doing great. Zack is still the most amazing creature in the world, you would never know he is 14, and we hope we have many more great times together. Rudy is ten and a half, still as sweet as ever, and he still occasionally shows in agility. However, he is most content on his recliner. Rumor is eight, and still a pistol. He is doing lots of tracking, and he still loves to cause trouble! Riva is two and a half now and very busy with herding, agility and obedience. Ray is eleven months old, and he may be the sweetest dog we've ever had. Our cat, Tyrone, will be fourteen in the spring and is also still spry. We look forward to many more years of enjoyment with our pets.
Sadly, as I was preparing this, I learned that my favorite aunt, Winifred Kemmish, passed away on December 22. She was my biggest fan, and a good friend. She will be missed.

George plans to finish the house in 2002. (Really!) We are planning an Open House for our 25th Wedding Anniversary next summer. We used to think only old people had 25th Wedding Anniversary parties!
Here's hoping that 2002 brings you great joy and happiness to you and all you hold dear.
Love,
Gerianne and George

Gerianne & the Kids
December 2001
Contact Us:
George and Gerianne Darnell
11092 240th St
Council Bluffs, IA 51503
(712) 526-2252
E-mail: GerianneDarnell@aol.com